Building Opportunities for Sistas to Shine
(B.O.S.S.) Scholarship
The Building Opportunities for Sistas to Shine Scholarship (B.O.S.S.) aims to make racial equality a reality by helping outstanding Black cis or transgender female students achieve their dreams to continue their education.
Each year, The MGAM Scholarship Foundation will provide two cis or transgender female students that have been accepted to, and will attend, a 2-year or 4-year college or university or a technology/vocational school with no less than $1,000 in financial support to aid them in achieving their dream of continuing their education.
The MGAM Scholarship Foundation Board of Directors is dedicated to the growth of the B.O.S.S. Scholarship and have approved a plan for increasing the financial support provided to scholarship recipients over the next few years with an end goal of being able to provide two $2,500 scholarships each year.
Congratulations to the 2023 B.O.S.S.
Scholarship Recipients!
As part of our commitment to helping young Black women achieve educational excellence, The MGAM Scholarship Foundation helps ease the financial burden for deserving high school graduates nationwide. For the 2023-2024 school year, the Foundation was pleased to award two students with a $1,500 scholarship each:
Arianna Young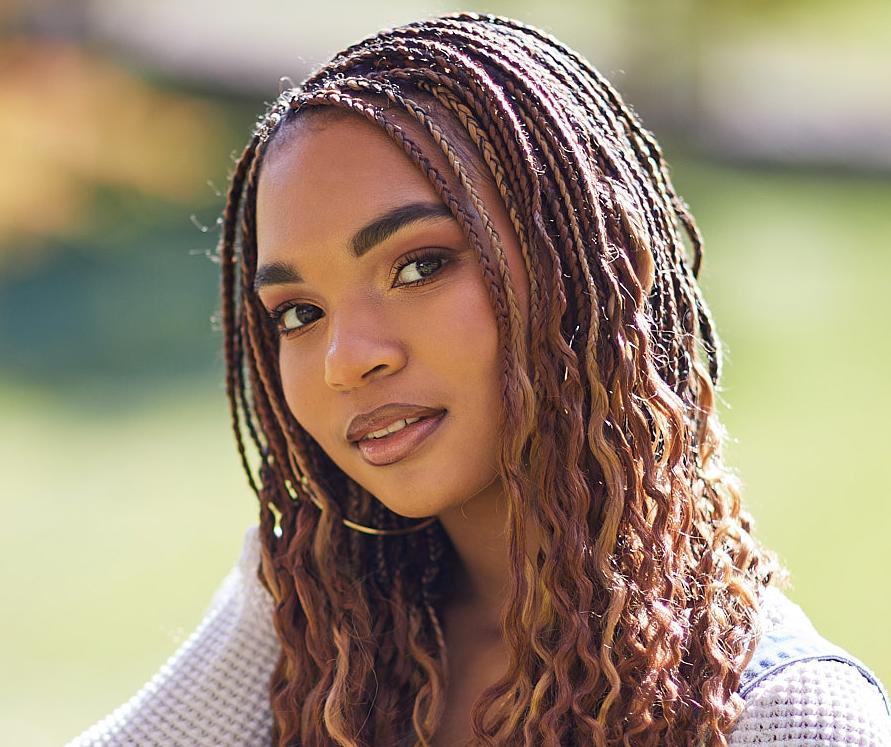 Arianna currently resides in Indianapolis, Indiana. She graduated from Brebeuf Jesuit Preparatory School. Arianna will be attending Spelman College in Atlanta, Georgia in the Fall and is looking to major in Film.
How does Arianna celebrate the beauty, power, and resilience of Black women? "My primary means of celebrating Black women is filmmaking and screenwriting. My goal with these arts is to bring Black characters to the screen and canvas as people whose blackness is part of them but doesn't define them. For example, the main character in my screenplay, Chin Up, is a Black girl who experiences social anxiety. As the writer, I know this character has experienced racism and sexism, but I choose to not make that part of her defining story. While it seems small, this is a significantly unique and important goal."
Yoselyn Owolabi
Yoselyn currently resides in Houston, Texas. She graduated from Victory Early High School. Yoselyn will be attending Howard University in Washington, D.C. in the Fall and is looking to major in Political Science.
How does Yoselyn celebrate the beauty, power, and resilience of Black women? "To me, the importance of dignity cultivates a prideful environment. The Feminine Self-Care Basket is a project created to empower women throughout our campus. We recognize that approximately 20% of Black women experience period poverty and oftentimes must use fabric, toilet paper, or free-bleeding to get by. We provide feminine products in the women's restroom for students to utilize in times of need."
Past Recipients
Eligibility Requirements
To be considered for a B.O.S.S. Scholarship, you must meet the following criteria:
Cis or Transgender female
At least one parent of African descent (e.g., African-American, African, Black Caribbean, Afro-Latina)
Graduating High School Senior
Have been accepted at a two- or four-year college/university, or accepted at a vocational/technical school and plan to attend school in the fall of your high-school graduation year
Legal U.S. citizen or permanent resident
Less than 20 years of age
Have a cumulative GPA of 3.0 or higher (based on a 4.0 scale)
Scholarship Timeline:
February – Scholarship applications are available on February 1st.
March – The application deadline is March 31st, 11:59 p.m. EST. Depending on the volume of applications, volunteer reviewers may evaluate applications and make final recommendations to the MGAM Board of Directors. The MGAM Board of Directors makes the final approval.
April/May – Applications reviewed. The selected recipients will be notified via email of their awards and are required to complete award acceptance steps.
May/June – President of MGAM mails scholarship checks to recipients.
How Winners Are Chosen:
In selecting B.O.S.S. scholarship recipients, The MGAM Scholarship Foundation will look for candidates who have the potential to excel as scholars, as leaders, and as contributors to the celebration of the beauty, power, and resilience of Black women. Applications will be reviewed and scored based upon the following criteria:
Academic Performance (GPA)
Resumes or CVs
Essays
Letters of recommendation
Responsibilities and Financial Need